Dr. Amanda Bowen and Tranquil Times Retreats Present:
An Amazing 8 Day Santorini Yoga Retreat Experience in Greece
2022
Due to the overwhelming success of The Santorini Transformational Yoga Retreat Experience in October 2019, Dr. Amanda Bowen and Jo Crowder from Tranquil Times Retreats are excited to announce the return for 2022!
Since I discovered the blissful Greek island of Santorini in 2016, I have spent some of the most magical times there, practising yoga whilst immersing myself in its beauty and tranquility, emerging restored and strengthened and it was such a pleasure for myself and Jo to be able to share this with our fantastic guests in October 2019 and seize the opportunity to deliver our incredible unique yoga retreat experience again in the warm and nurturing embrace of Santorini.
More about Jo, myself and the Santorini Retreat…
You are invited to join myself Dr. Amanda Bowen and also, yoga teacher, transformational coach and reiki master, Jo Crowder of the wonderful Tranquil Times Retreats in Santorini for seven nights of yoga, energy work, relaxation, exploration, fun and laughter.


The Santorini Yoga Retreat Experience is about igniting your inner fire and rejuvenating your mind, body and spirit. All whilst enjoying one of the most stunning locations in the world.
Jo and I met each other in India where, through yoga, we formed a strong friendship. As a result of this, we also gained an appreciation of each other's work in the yoga space. We envisaged our own dream retreats and now, we are delighted to be able to deliver those dreams to you for the second year running on this beautiful Greek island.

Read on to find out more about what you can expect from this wonderful experience. We look forward to welcoming you, and above all, sharing with you some very special and transformative times.
Location
We've chosen the sublime setting of Santorini to fire you up for this wonderful week of wellbeing. This idyllic island paradise situated within the Cyclades in Greece, erupted over 3600 years ago to reveal spectacular rock formations, lunar landscapes and the best sunsets in the Mediterranean. Considered a magical and mythical island and recognised as a place with powerful energy and authenticity, popular theory states that the volcanic eruption here was the source of the legend of Atlantis.
We feel very fortunate to have been offered another week at the award winning Pelagos hotel, situated 3kms outside of Oia village, surrounded by farms and vineyards. Just 10 minutes from the nearest beach, the complex overlooks the turquoise waters of the Aegean Sea and the caldera (crater) below.
This peaceful paradise is well away from the hustle and bustle of the tourist areas, but close to the traditional villages with their white-washed buildings nestled into the cliff face, beaches and downtown Fira.
Our spacious, bright and airy rooms are situated within three detached Cycladic buildings in perfect harmony with the surrounding landscape. Furnished in typical Santorinian style with an emphasis on character and comfort.
Each room has its own en-suite bathroom and private balcony allowing for greater privacy and relaxation, with spectacular views of the countryside, gardens or pool. Take a stroll between the palms and fig trees and let your mind calm, relaxing in hammocks between the trees, sipping coffee or cocktails by the pool, on the terrace or your own balcony. The overall magic of this place offers you a secluded calm space, with privacy, as well as several communal areas like the yoga shala, dining areas, gardens, and terraces. The outside yoga shala is a huge space bathed in light.
Hotel facilities & services
· Reception
· Restaurant
· Bar
· Swimming pool
· Pool towels
· Children swimming pool
· A/C
· Free WiFi internet
· Daily maid service
· Laundry
· Rent a car – The hotel can arrange for the car to meet you at airport
Food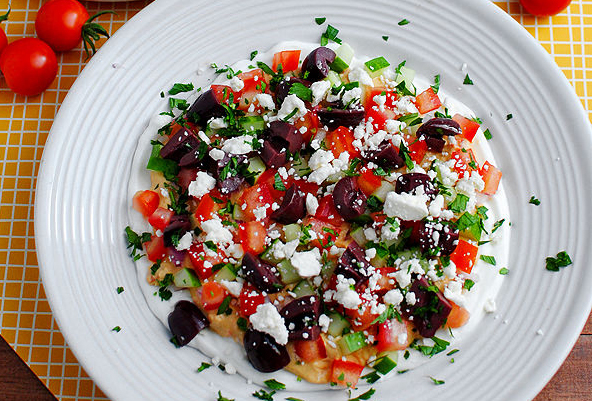 Organic Cuisine
Santorini offers agricultural produce of exquisite quality and incomparable taste due to both its unique climate and volcanic soil.
Our hosts philosophy regarding their restaurant is one of combining the use of local produce with biological cultivation. Therefore, they cultivate typical local varieties of fruit and vegetables without adding any artificial fertilizers, pesticides or growth accelerators.
They strongly support the idea of organic nutrition, offering a wide range of Greek, traditional dishes using as many ingredients as they can from their own produce, such as cherry tomatoes, white aubergines, local cucumbers, round zucchinis, string beans, grapes, figs, melons and watermelons.
Take a stroll into the vegetable garden and get acquainted with the renowned, dry varieties which grow on the island and taste the fruit of their fig trees which surround your bungalows.
Your retreat includes 7 breakfasts and 5 dinners at the hotel. On arrival day, a special welcome dinner is served where we meet, greet and set our intentions for the week. Our final night will be a celebration of our journey together and for the remaining 2 dinners – one we will dine at sunset at a gorgeous restaurant in Fira and another onboard the yacht on our optional sailing trip half way through our week.
To allow for personal flexibility and enable you to explore the island during the daytime, lunches at the hotel aren't included. You have option to either use the small kitchens in the shared rooms to prepare your own, dine in the hotels mouth-watering restaurant or elsewhere on the island. Amanda has good knowledge of the local area so can recommend some great places to eat. Vegetarian, vegan and gluten and lactose free meals are available at the Pelagos. Fish may also be available twice a week.
Amanda and Jo – your Teachers and Hosts.
Dr. Amanda Bowen
Being diagnosed with chronic fatigue syndrome then PTSD, depression and anxiety fifteen years ago left me unable to function. I led myself down the holistic route to get my health and, ultimately, my life back, and along the way stepped into my role as a teacher and wellness guide centred around yin yoga.
I discovered I have a skill in teaching and a happiness in sharing my practice with others. This powerful yet very human journey has so far involved almost six hundred hours of Yoga Alliance teacher training.
I have studied and trained in hatha, ashtanga, vinyasa, yin, yin yang and aerial yoga. Of these, yin yoga was the completing piece of the jigsaw for me. Yin is where my healing finds its natural flow and why I chose to progress and delve deeper with the advanced yin yoga teacher training
While I was being treated for PTSD, I developed a fascination with how the human brain works. What my consultant shared with me about my brain was incredible, and I needed to know more. This drive to understand more led me into gaining my PhD in Metaphysical Science.
The fact that I had gone from being unable to function, to completing a PhD, was beyond any belief I had about myself. I never imagined I would be able to use my brain, and heal my body and mind, to the extent that I have.
The intensity and depth of my yoga training and academic studying and the way in which they come together in my sessions have created my unique style of teaching yin yoga.
Postures, nurture and calm are combined with the brain science behind the practice and meticulous preparation, bringing wisdom and learning from many different sources into each session.
Counselling on stress management and how to mitigate against the devastating long-term effects it can have is woven into my teaching.
I bring healing stillness into people's lives in order for them to better manage their challenges and find – and enjoy – the balance that is so often missing.
About Yin Yoga…
Yin yoga is a meditative, healing form of yoga, which works on a deeper level into the connective tissues and organs, lubricating the body and releasing toxins and negative emotions. It invites us to enter a space of stillness, whilst combining the principles of Traditional Chinese Medicine and ancient Indian wisdom.
It restores, balances and enhances the energy flow throughout the body, interconnecting every tissue and organ, through invisible pathways, removing blockages, the precursors to illnesses. This works like acupuncture but without the needles!
Each organ has many energetic components that affect us physically, emotionally and mentally. Our bodies carry a record of all our experiences in our lifetime and all experiences carry an emotional charge.
Over the years any trauma, bad relationships, betrayals, stressful jobs and grief can actually affect our physiology. As a result, they can break down the immune system, leading to illness and disease. It is really important to stay with this practice to help to release all the emotional baggage that we have been carrying around for so long.
Introducing Jo Crowder…
Hello, I am Jo Crowder, a Yoga Alliance certified yoga teacher. I have been practising yoga for over twenty years.
Initially, I was attracted to yoga for its mental and spiritual aspects, but I later had a powerful lesson in yoga's physical healing benefits after damaging my neck and back in three different car accidents.
My classes are fun and engaging, drawing on aspects of different yoga styles and energy work, emphasising awareness of mind, body, and breath whilst also focusing on correct alignment. My intention is to inspire others to connect with themselves and explore, and as a result, discover their unique potential, in a safe and healing environment. Over the years I have practised, studied and been influenced by various styles of yoga.
For this particular retreat I will be teaching a mix of vinyasa flow, hatha/sivananda, restorative and energy work depending on the group's needs at a particular time. I will also incorporate and focus on the healing power of guided meditation and qigong exercises throughout.
I run Tranquil Times Retreats in Varna, Bulgaria, and when I am not teaching yoga I am immersed in the other aspects of my practice there which include transformational life coaching, Reiki, sound therapy, energy work and curative hypnotherapy.
The Santorini Retreat Experience means a huge amount to me, due to it being as much of a journey for Amanda and I as it is for our guests. Together we bring a powerful connection, a depth of knowledge, a passion and skill for teaching. We complement each other in our practice and personalities, and as a result, what emerges is calming and healing.
But also – importantly – there is an awful lot of laughter and lightness of being too, which is a key ingredient on our retreats.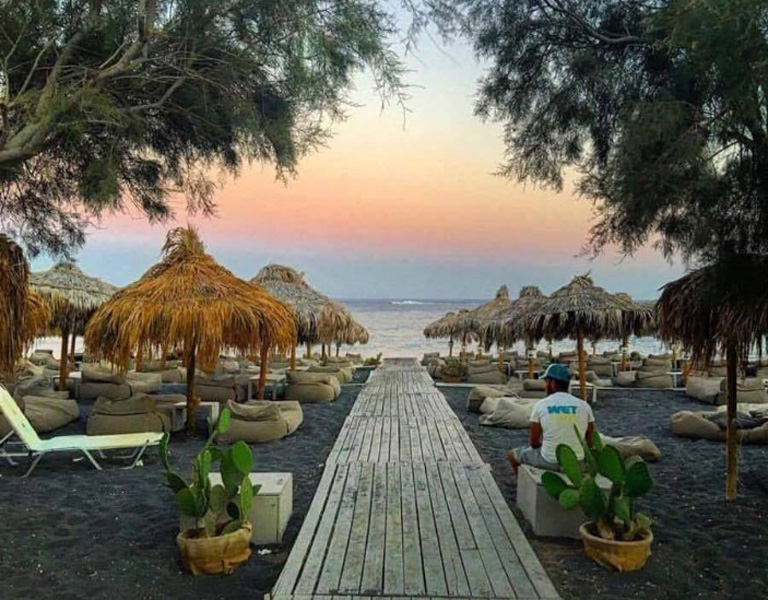 Retreat Program
The itinerary has been designed to give you a good balance of deep internal work for mind, body, and spirit along with glimpses into traditional Santorinian life and lots of light-hearted down-to-earth fun and laughter!
Each yoga session will be different. The program will be adjusted intuitively according to the group's needs as we journey through the week and raise your vibrations. Jo will guide you through Hatha and Restorative yoga on arrival to aid speedy recovery after our travels and gentle Vinyasa flow for most morning sessions to connect with our breath and tune into the energy fields in our body. Yin yoga will be incorporated for emotional release and to stimulate energy flow further as well as qigong techniques. Guided meditations are also an important part of this week, tailored to what comes up for our group.
Amanda will guide you through yin yoga inviting you to enter a place of stillness.
We'll allow for quiet times too where you'll be encouraged to take time out, meditate and journal to explore, enhance and evaluate your inner experience.
You can also book Amanda & Jo for one-to-one sessions or Jo for reiki treatments. Massages are also available on site from the highly experienced physiotherapist and reflexologist.
What will you actually receive from the Santorini Transformational Yoga Retreat Experience?
The Santorini Retreat Experience includes:
8 days / 7 nights boutique accommodation in shared or private en-suite rooms
Daily yin/hatha/vinyasa yoga/meditation/energy work, averaging three hours a day divided into two sessions.
Daily delicious breakfast buffet
5 divine dinners (organic vegetarian)
Free Wi-Fi
What the Santorini Retreat does not include:
Flights
Travel insurance
Lunches
Excursions (apart from walking to Oia, which is free)
Therapies
Treatments
Private sessions
Taxis
Airport transfers
Excursions:
Walking to Oia
Sunset sailing trip on the Caldera
Meal in Fira, whilst watching the beautiful Santorini sunset
Day at a stunning beach club in Perivolos
Benefits:
Experience joy, fun, laughter and adventure with a group of like-minded people
Immerse yourself in deep soul work releasing ties from the past to become mentally stronger to become the best version of yourself
Stimulate your senses whilst learning new practices and discover your power within
Embrace the soul of Santorini, whilst relaxing in this perfect location to enjoy the beauty of nature and the power of the elements
Opportunity to learn from two highly respected teachers
Added bonuses:
You will be added to a private WhatsApp group so that you get the chance to meet everyone virtually beforehand. And also, so that you can share photos, stories and revelations and also remain in touch with your new friends.
Coaching support can be booked and arranged for after the trip to help overcome any challenges and also, to integrate the teachings into your everyday life.
So how do I book my place on this Santorini Yoga Retreat?
The Santorini retreat will take place in 2021 at the Pelagos Hotel in the village of Baxedes near Oia, Santorini
New dates waiting to be confirmed! Contact me now to go on the priority waiting list to be advised first and secure at these prices below. No deposit required until dates are confirmed.
The prices for the retreat range from £960 – £1350 and are as follows:
This includes on average, three hours a day of yoga, meditation and energy work sessions, all breakfasts, and also, five divine evening meals.
3 sharing a triple en-suite room £960 … deposit £250
2 sharing double/twin en-suite room £1040 … deposit £300
1 person single occupancy in a double en-suite room £1350 … deposit £350
Payments to be made via bank transfer. IBAN details can be provided at time of booking.
Please advise if payment needs to be made by credit/debit card as card payments can also be accepted
Please advise of any food allergies or medical conditions at the time of booking.
CONTACT ME NOW TO FIND OUT MORE OR RESERVE YOUR PLACE
Additional information

How to get there (flights, airport transfers, buses, trains)
Fly to Santorini Thira National Airport (JTR)
British Airways offers direct flights from Heathrow to Santoríni.
EasyJet serves Santoríni from Gatwick.
Other flights will go via Athens.
*PLEASE CONTACT US FIRST BEFORE BOOKING FLIGHTS!!
Transfers can be arranged and cost approximately €35 each way.
We will do our best to keep costs down by grouping you together with other guests to share the taxis.
Distances
· Beach 200m
· Oia village, 3 kilometers
· Fira, 10 kilometers
· Santorini Thira National Airport (JTR), 20 kilometers
Weather
Santorini has a semi-arid climate. May – September is hot, dry and peak travel time, with average temperatures ranging from a low of 23C to highs of 29C.
Electricity and outlets
Please bring a European adapter for any electrical appliances if you are coming from the UK or outside Europe.
What to bring
Pack as light as possible, so you have room for any shopping at the unique and wonderful array of shops
· Notebook for journaling
· Comfortable yoga clothes for classes, swimming and beach wear, light summer clothes, sensible walking shoes/trainers
· European electrical adapter
· Mosquito repellant, just in case!
· Any personal medication
Responsible travel
Please share transport where possible to reduce carbon emissions and use water and electricity efficiently
Reviews
"Having just returned from Amanda and Jo's Santorini retreat I cannot recommend highly enough. Their yoga styles compliment each other perfectly drawing on both the chakras and chinese medicine principles . The warm way in which they guide you through each session is second to none. The food we were served was nourishing and tasty . The Reiki treatment from Jo I can honestly say was so powerful. Already looking to attend next year!" – Paula Cornah, Wirral, UK
"I have just experienced the Santorini Transformational Yoga Retreat with Dr Amanda Bowen and Jo Crowder.
I was a little nervous about going, not having been away 'on my own' before.
What a fabulous group of people with a shared interest in yoga. The hotel was ideal for a retreat and the vegetarian meals were delicious.
Mandy and Jo are both so knowledgeable and inspirational.
The sessions were a mix of Hatha, Yin and Chakra,/Meridian work. I attend weekly sessions of Yin with Mandy on the Wirral so I had previous knowledge of her teaching style. She is amazing and has brought about so many positive changes for me.
The atmosphere on this retreat was caring, supportive and encouraging.
I came away feeling relaxed, re-energized and balanced.
What a fabulous experience.
Thank you so much Mandy and Jo." – Lindsey Vernon, Wirral, UK
"I attended a retreat in Ibiza with Amanda and was so inspired by her teaching and passion. Amanda has a gift in the way she is able to engage you with the practice of yin yoga and her knowledge of the spiritual practice which she bases her classes around. I would not hesitate to recommend Amanda's retreats and classes and can guarantee a life-enhancing experience will be had." – Helen Kiddle, London, UK
"Where to start? I cannot recommend Mandy and Jo's Santorini Retreat enough!
Scared was an understatement the day we left for Santorini. I was determined to "feel the fear and do it anyway"! I was going on holiday, on my own (1st 3 days completely on my own), relatively new to yoga and had no idea what to expect from a retreat.
I need not have worried. The island is beautiful, the friends I made are lovely and Mandy and Jo are so knowledgeable, dedicated and friendly. Food was delicious, oh, and the yoga……. nearly forgot. Well the yoga was so relaxing and different every day. It went far too quick.Thanks for introducing me to the magic of yoga. You really do have to experience it to believe it". – Jane Baker, Wirral, UK
"Yin yoga has changed my whole outlook on life & my thought process, I feel so much calmer & contented & my husband will vouch for me – it wasn't something I ever dreamt of doing but it's one of the best things I've ever invested in – we are so privileged to have Dr Amanda Bowen as our instructor as she is amazing & so dedicated in her teaching." – Colette Ventre, Wirral, Uk
"Since going to Amanda's yin yoga I can honestly say I'm feeling more in control of my everyday life, learning to appreciate my life, family & friends and really take time to be in the moment.
This has only been done with her guidance, advice and passion for what she does, which really shows through. Amanda does this with a smile on her face always.
She is the best around and I really feel lucky to be one of her enthusiastic students. Thank you for being you Amanda." – Sue Morrow, Merseyside, UK
"I have almost completed my first course of yin yoga and have experienced a positive change in my energy and emotional levels.
As a person that is never still and with a mind that races I have found great benefit from Amanda's technique. She is a patient, well-informed teacher who takes time and care to make sure her students get the most out of each session.
I have felt a sense of inner healing and I am looking forward to the next course very much. Thank you Amanda x" – Sherry Hughes, Merseyside, UK
"I had the pleasure of working alongside Amanda designing and running two separate week-long yoga retreat weeks in August, combining yoga with a transformational healing course for the body and mind.
Amanda puts 110% into everything she takes on and delivers it, including the science, in a professional, down to earth and fun manner.
She shares openly about her life experiences and vast knowledge to help bring about a profound shift in the lives of others.
After witnessing – and experiencing – the positive changes, I can highly recommend her services as a yoga teacher and life coach.
I look forward to our incredibly exciting collaboration together on the Dr Amanda Bowen Santorini Retreat experience in October 2019." – Jo Crowder, Tranquil Times Retreats.
"I have received amazing one-to-one sessions from Amanda in her intimate and peaceful studio. She tailors sequences to address specific chakras and organs, moving energy and stagnant emotions with long, slow yin stretches, meditation and relaxation.
The combination of her metaphysical and spiritual knowledge and experience provide a truly unique holistic approach.
I would absolutely recommend her as a teacher, mentor and life coach, she goes above and beyond to develop your spiritual journey both on and off the mat." – Julie Clay, Manchester, UK
Further Information
Cancellation Policy:
All deposits are non-refundable and non-transferable
There is a statutory 14-day cooling off period
This does not apply if the trip is booked within 14 days of the retreat start date
There is a strict no refund policy, so it is recommended that you take out your own travel insurance and cancellation insurance
No responsibility can be taken in regards to travel arrangements; this includes flight delays or cancellations etc
If you have a health condition, please consult your doctor before booking