Dr. Amanda Bowen Presents:
"The Santorini Experience"
An Amazing Yoga Retreat Holiday in Greece for 7 Nights!
(for women only)
1st – 8th October 2022
&
7th – 14th October 2023
Due to the overwhelming success of The Santorini Transformational Yoga Retreat Experience in October 2019, Dr. Amanda Bowen is excited to announce a return to the stunning Greek island for 2022, but this time in a fabulous private hilltop villa with breathtaking views, and a jaw-dropping infinity pool, exclusive to just us!
This is a smaller, more intimate retreat for women only with me as your teacher, host and tour guide.
Since I discovered the blissful Greek island of Santorini in 2016, I've spent some of the most magical times there, practising yoga whilst immersing myself in its beauty and tranquility, emerging restored and strengthened and it was such a pleasure to be able to share this with our fantastic guests in October 2019 and seize the opportunity to deliver an incredible unique yoga retreat experience again in the warm and nurturing embrace of Santorini.
More about this Santorini Retreat and me…
You're invited to join me in Santorini for seven nights of yoga, energy work, relaxation, sight-seeing, fun and laughter. A perfect mix of yin and yang.
This Santorini Yoga Retreat Experience promises to bring back your sparkle and get your mojo back! All whilst enjoying one of the most stunning locations on earth.
What can you expect from this wonderful experience? Well, the good times will definitely be rolling!
Yes please I want in!!
Location
I've chosen the sublime setting of Santorini to fire you up for this wonderful week of wellbeing. This idyllic island paradise situated within the Cyclades in Greece, erupted over 3600 years ago to reveal spectacular rock formations, lunar landscapes and the best sunsets in the Mediterranean. Considered a magical and mythical island and recognised as a place with powerful energy and authenticity, popular theory states that the volcanic eruption here was the source of the legend of Atlantis.
Due to the previous venue no longer being available, I feel so fortunate to have found an exclusive new venue in an amazing location! This peaceful paradise is nestled away from the tourist areas, yet within walking distance of the white-washed buildings and pretty village of Imerovigli and Firostefani and Fira.
This luxurious air-conditioned villa has recently been renovated and has its own fabulous infinity-edge swimming pool that vanishes into the Aegean Sea. We'll have some of the most superb and unobstructed views of the entire island.
Our spacious, bright and airy 8 bedroom villa consists of 2 king size suites with private en-suite bathrooms and 4 double bedrooms and 2 twin rooms with shared bathrooms. There are living areas and kitchens throughout the villa offering you a secluded calm space, so that you can choose privacy or get togethers and enjoy the best of both worlds. The overall magic of this place allows you to simply sip coffee or cocktails by the pool, or whatever takes your fancy on one of the terraces or balconies.
This is your time! Do what makes you happy. No judgement here. A yoga retreat with a difference; if you want wine you can have it! Just bring it with you or buy locally to store in one of the kitchens for your convenience. Or maybe you prefer a gin after yin! The choice is all yours.
Villa facilities & services
Exclusive large infinity-edge swimming pool

Pool towels

Air conditioning

LCD flat screens

Satellite TV and radio

DVD – CD – MP3 players

Free high speed WiFi

Maid service

Complimentary toiletries

Hairdryer

Safety deposit box

Private parking

Massages can be arranged, book in advance
Food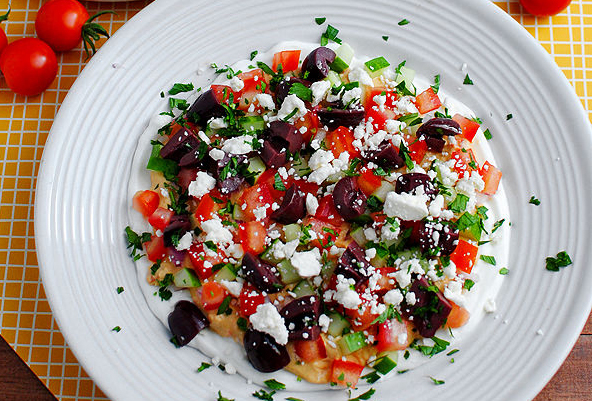 Santorini offers agricultural produce of exquisite quality and incomparable taste due to both its unique climate and volcanic soil.
There are many high quality restaurants that combine the use of local produce with biological cultivation, offering a wide range of Greek, traditional dishes
Your retreat includes 7 vegetarian breakfasts served at the villa and 5 vegetarian dinners, some at the local restaurants, so make sure you have your outfits sorted.
On arrival day, our first special welcome dinner is to meet up, unwind, relax and set our intentions for the week.
What do you want to experience during our special time together?
What is your heart's desire? The universe is listening, the wheels are in motion and it's time to get excited!
I have loads of knowledge to share due to my many visits to Santorini and I'm happy to be your tour guide and take you to all the best places! You can trust that you are in safe hands.
But you have personal flexibility to explore the island during the daytime as you choose, lunches aren't included for this reason. There's the option to use the kitchens to prepare your own, or sample some of the mouth-watering restaurants around the island.
We can take a walk to Skaros Rock from our villa, it's an ancient collection of rocks formed from the volcanic eruption dating back to 68,000 B.C!
Admiring the sensational views goes without saying!
Pyrgos Village is a hidden gem that I would love you to discover. The former capital of Santorini and the best-preserved medieval settlement on the island. Here the pace of life is so relaxed and retains an unruffled air of easy grace. Here we can walk up to the famous rooftop cafe for coffee, perched right on top of this charming town for more views to take your breath away..
And if you crave the beach, I can take you to a lovely beach bar/restaurant. Sunbathing on massive big four poster beds whilst sipping a Bellini, arh bliss! And we could even squeeze in some yin.
During the week there will be the optional sailing trip, an afternoon to savour in the beauty of Santorini, swim in the Caldera and marvel at the sunset. All food and drinks provided so our bellies will be well and truly full, so no extra evening meal planned for that day!
We will be visiting the fabulous Fira and Firostefani, for a cocktail or two or whatever takes your fancy!
And our final night will be a celebration of our journey together at the famous picture perfect place of Oia, overlooking the Caldera, watching another famous Santorini sunset for the last time of the trip.
One truly memorable experience after another, to take your breath away and keep you in the present moment!
Amanda – Your Teacher, Host & Tour Guide
Being diagnosed with chronic fatigue syndrome then complex PTSD, depression and anxiety fifteen years ago left me unable to function. I led myself down the holistic route to get my health and, ultimately, my life back, and along the way stepped into my role as a teacher and wellness guide centred around yin yoga and stress management.
I love sharing my practice with others. This powerful journey has so far involved over six hundred hours of Yoga Alliance teacher training earning me EYRT500! I just love learning, it's my new addiction!
I've studied and trained in hatha, ashtanga, vinyasa, aerial, yin, yin yang, acu-yin, yoga for trauma recovery and recently added restorative and yoga nidra.
I discovered yin yoga on my very first teacher training course in India.
Why haven't I found this sooner I thought? We find what we need when the time is right.
Yin is where my healing was ignited and kick-started into gear! It's why I had to delve deeper with the advanced yin yoga teacher training and then acu-yin. The common thread through all my yoga teachings is to switch off the stress.
Whilst being treated for complex PTSD, I developed a fascination with how the human brain works. What my consultant shared with me about my brain was incredible, and I needed to know more so I dived right in there into the world of metaphysics! This then led me into gaining my PhD in Metaphysical Science. Isn't it just mind-blowing how things turn out?! I never imagined I'd be able to use my brain, and heal my body and mind, to the extent that I have.
The intensity and depth of my yoga training and academic studying and the way in which they come together in my sessions have created my unique style of teaching yoga.
Postures, nurture and calm are combined with the brain science behind the practice and meticulous preparation, bringing wisdom and learning from many different sources into each session, hence, MindScienceYoga, made simple.
Education and inspiration is woven into my teachings and comes from my own personal experiences, providing the essential knowledge for healthy stress management. When we assign meaning to what we do we get better results. And that, my friend is a scientific fact, according to one of my fave docs, Dr. Joe Dispenza
Allow me to teach you how to bring in balance, stillness and healing and help you to overcome life's challenges so that you can enjoy the life you deserve, full of health, peace, happiness and joy. Isn't that what we all want?!
About Yin Yoga…
Yin yoga is a meditative, healing form of yoga, which works on a deeper level into the connective tissues and organs, lubricating the body and releasing toxins and negative emotions. It invites you to enter a space of stillness, whilst combining the principles of Traditional Chinese Medicine and ancient Indian wisdom.
It restores, balances and enhances the energy flow throughout the body, interconnecting every tissue and organ, through invisible pathways, removing blockages, the precursors to illnesses. This works like acupuncture but without the needles!
Each organ has many energetic components that affect us physically, emotionally and mentally. Our bodies carry a record of all our experiences in our lifetime and all experiences carry an emotional charge.
Over the years any trauma, bad relationships, betrayals, stressful jobs and grief can actually affect our physiology. As a result, they can break down the immune system, leading to illness and disease. It's really important to stay with this practice to help to release all the emotional baggage that we have been carrying around for so long. You will feel so much lighter and brighter.
Retreat Program
The itinerary has been designed to give you a good balance to rest, recharge, invigorate and restore, along with enjoying the Santorini life and lots of good old down-to-earth fun and laughter!
Each yoga session will be different, each morning will be either 2 hours or 1.5 hours and some late afternoons of around 1 hour, depending on excursions.
The program will be tailored around the group's needs as we journey through the week and get the good vibes flowing. There will be gentle Restorative Yoga/Yoga Nidra on arrival to replenish you after travelling and a mix of yin & yang for most morning sessions to move the energy and wake up the body.
Yin yoga, acu-yin and fascia work will be incorporated to move any stuck emotions and to stimulate energy flow further as well as guided meditations to help you feel lighter and brighter!
Massages can be arranged by booking in advance.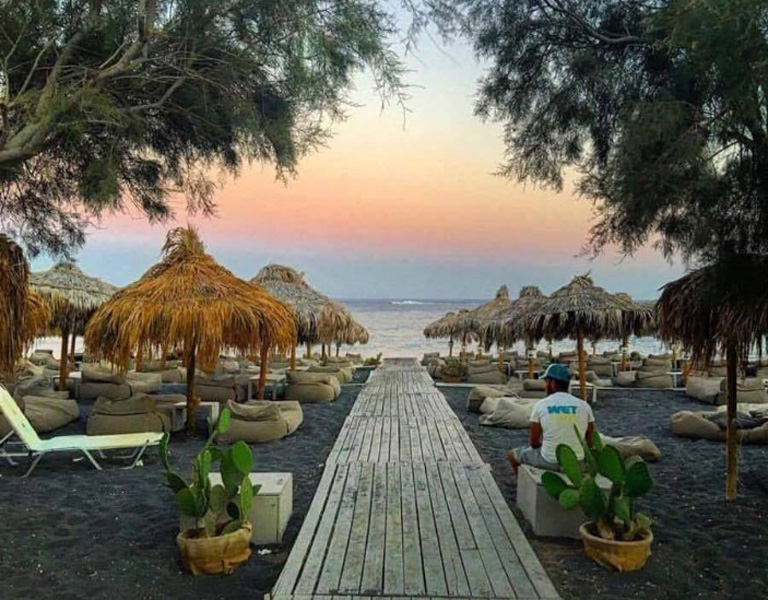 What will I receive from this Santorini Yoga Retreat Holiday?
The Santorini Retreat Experience includes:
7 nights accommodation in shared or private en-suite rooms

Daily yoga & meditation sessions, averaging two hours a day divided into one or two sessions.

Daily delicious breakfast buffet (vegetarian)

5 divine dinners (vegetarian)

Free Wi-Fi
What the Santorini Retreat does NOT include:
Flights

Travel insurance

Lunches and 2 evening meals

Drinks

Excursions (see below)

Massages

Private sessions

Taxis

Airport transfers
Excursions:
Walking to Skaros Rock, Firostefani and Fira

Trips to Pyrgos and Oia

Sunset sailing trip on the Caldera

Cocktails & mocktails in Fira, whilst watching the beautiful Santorini sunset

Day at a relaxing beach bar/restaurant
Benefits:
Experience joy, fun, laughter and adventure with like-minded ladies

Release emotional baggage from the past and live life to the full

Stimulate your senses whilst immersing yourself in lots of healing yoga

Embrace the soul of Santorini, whilst relaxing in this perfect location to enjoy the beauty of nature at its best

Opportunity to learn from a highly qualified and respected teacher (ERYT500)
Added bonuses:
I'll add you to the private WhatsApp group to get the chance to meet everyone virtually beforehand, maybe arrange travelling together and sharing airport transfers. And also, for you to share photos and stories and remain in touch with your yoga friends.

Extra support can be booked and arranged for after the trip to help overcome any challenges and also to integrate the teachings into your everyday life.
How do I book my place on this Santorini Yoga Retreat Holiday?
Contact me now to complete your health questionnaire so that you can then secure your place and book instantly online.
Early bird prices for this retreat package range from £1295 – £1495 and are as follows:
Includes on average, two hours a day of yoga & meditation sessions, all breakfasts, and also, five yummy evening meals. (All vegetarian)
1 person single occupancy in a king size suite with private en-suite bathroom

£1495 (sold out for 2022)

1 person single occupancy in a double bedroom with shared bathroom

£1445 (sold out for 2022)

1 person sharing a twin room with shared bathroom

£1295*
Personalised deposit and payment plans can be set up on request. See suggested plans here.
********
*2 people must book together or ask me if I can pair you up with someone.
Please advise me of any food allergies or medical conditions BEFORE booking.
It is your responsibility to make sure that you can comply with the government foreign travel advice regarding entry requirements, vaccinations, tests etc. before booking.
Please see Terms & Conditions for full details. By booking with me you are agreeing to these T&Cs.

How to get there:
Fly to Santorini Thira National Airport (JTR)
British Airways offers direct flights from Heathrow to Santoríni.
EasyJet and Ryanair serves Santoríni from Manchester and Gatwick
Other flights will go via Athens.
DO NOT book flights until I have confirmed that the retreat is definitely going ahead.
Please CONTACT me
Transfers by taxi can be arranged and cost approximately €45 each way. (I will do my best to keep costs down by grouping guests together.)
Distances:
Fira, 2 km

Firostefani, 1 km

Santorini Thira National Airport (JTR),

7.8 km

Oia, 9.4km
Weather
Santorini has a semi-arid climate. May – September is hot, dry and peak travel time, with average temperatures ranging from a low of 23C to highs of 29C. The best time to visit is September – October when the temperatures are warm, the sun is shining and the crowds are scarce.
Electricity and outlets
Please bring a European adapter for any electrical appliances if you are coming from the UK or outside Europe.
What to bring
Pack as light as possible, so you have room for some retail therapy at the unique and gorgeous shops and boutiques.
Own yoga stuff (if you prefer)

Pillow for yoga & meditation

Notebook for journaling & a daily gratitude practice

Cosy & comfortable yoga clothes for classes, swimming and beach wear, light summer clothes for daytime, warm and cosy cover ups for evenings and early morning, sensible walking shoes/trainers

European electrical adapter

Mosquito repellant, just in case!

Any personal medication

Your favourite bevvy – yes wine etc is allowed! (Everything in moderation, of course!)
Responsible travel & retreat etiquette
Please share transport where possible to reduce carbon emissions and use water and electricity efficiently.
Kindness and respect for others is an integral part of not only this retreat experience but also for life in general. Our words and actions affect others and we all have a responsibility to be aware and live consciously, and not contaminate the beautiful healing space that has been created for a truly spectacular and life changing experience.
Santorini changed my life beyond belief and you too can create a life to love with memories that will lift you up for many years to come. Don't let this unique and special retreat holiday pass you by.
I don't want to miss this, please get me in!
Reviews
"I attended a retreat in Ibiza with Amanda and was so inspired by her teaching and passion. Amanda has a gift in the way she is able to engage you with the practice of yin yoga and her knowledge of the spiritual practice which she bases her classes around. I would not hesitate to recommend Amanda's retreats and classes and can guarantee a life-enhancing experience will be had." – Helen Kiddle, London, UK
"Having just returned from Amanda and Jo's Santorini retreat I cannot recommend highly enough. Their yoga styles compliment each other perfectly drawing on both the chakras and Chinese medicine principles. The warm way in which they guide you through each session is second to none. The food we were served was nourishing and tasty . The Reiki treatment from Jo I can honestly say was so powerful. Already looking to attend next year!" – Paula Cornah, Wirral, UK
"I have just experienced the Santorini Transformational Yoga Retreat with Dr Amanda Bowen and Jo Crowder.
I was a little nervous about going, not having been away 'on my own' before.
What a fabulous group of people with a shared interest in yoga. The hotel was ideal for a retreat and the vegetarian meals were delicious.
Mandy and Jo are both so knowledgeable and inspirational.
The sessions were a mix of Hatha, Yin and Chakra,/Meridian work. I attend weekly sessions of Yin with Mandy on the Wirral so I had previous knowledge of her teaching style. She is amazing and has brought about so many positive changes for me.
The atmosphere on this retreat was caring, supportive and encouraging.
I came away feeling relaxed, re-energized and balanced.
What a fabulous experience.
Thank you so much Mandy and Jo." – Lindsey Vernon, Wirral, UK
"Where to start? I cannot recommend Mandy and Jo's Santorini Retreat enough!
Scared was an understatement the day we left for Santorini. I was determined to "feel the fear and do it anyway"! I was going on holiday, on my own (1st 3 days completely on my own), relatively new to yoga and had no idea what to expect from a retreat.
I need not have worried. The island is beautiful, the friends I made are lovely and Mandy and Jo are so knowledgeable, dedicated and friendly. Food was delicious, oh, and the yoga……. nearly forgot. Well the yoga was so relaxing and different every day. It went far too quick. Thanks for introducing me to the magic of yoga. You really do have to experience it to believe it". – Jane Baker, Wirral, UK
"Yin yoga has changed my whole outlook on life & my thought process, I feel so much calmer & contented & my husband will vouch for me – it wasn't something I ever dreamt of doing but it's one of the best things I've ever invested in – we are so privileged to have Dr Amanda Bowen as our instructor as she is amazing & so dedicated in her teaching." – Colette Ventre, Wirral, Uk
"Since going to Amanda's yin yoga I can honestly say I'm feeling more in control of my everyday life, learning to appreciate my life, family & friends and really take time to be in the moment.
This has only been done with her guidance, advice and passion for what she does, which really shows through. Amanda does this with a smile on her face always.
She is the best around and I really feel lucky to be one of her enthusiastic students. Thank you for being you Amanda." – Sue Morrow, Merseyside, UK
"I have almost completed my first course of yin yoga and have experienced a positive change in my energy and emotional levels.
As a person that is never still and with a mind that races I have found great benefit from Amanda's technique. She is a patient, well-informed teacher who takes time and care to make sure her students get the most out of each session.
I have felt a sense of inner healing and I am looking forward to the next course very much. Thank you Amanda x" – Sherry Hughes, Merseyside, UK
"I had the pleasure of working alongside Amanda designing and running two separate week-long yoga retreat weeks in August, combining yoga with a transformational healing course for the body and mind.
Amanda puts 110% into everything she takes on and delivers it, including the science, in a professional, down to earth and fun manner.
She shares openly about her life experiences and vast knowledge to help bring about a profound shift in the lives of others.
After witnessing – and experiencing – the positive changes, I can highly recommend her services as a yoga teacher and life coach.
I look forward to our incredibly exciting collaboration together on the Dr Amanda Bowen Santorini Retreat experience in October 2019." – Jo Crowder, Bulgaria
"I have received amazing one-to-one sessions from Amanda in her intimate and peaceful studio. She tailors sequences to address specific chakras and organs, moving energy and stagnant emotions with long, slow yin stretches, meditation and relaxation.
The combination of her metaphysical and spiritual knowledge and experience provide a truly unique holistic approach.
I would absolutely recommend her as a teacher, mentor and life coach, she goes above and beyond to develop your spiritual journey both on and off the mat." – Julie Clay, Manchester, UK
Our beautiful home for the week
Further Information
Cancellation Policy:
All deposits are non-refundable and non-transferable.

The strict no refund policy is due to the high costs involved and financial commitment on my part, so it is recommended that you take out your own travel insurance and cancellation insurance

No responsibility can be taken in regards to travel arrangements; this includes flight delays or cancellations etc

If you have a health condition, please consult your doctor BEFORE booking and make sure to complete my health questionnaire.

It is your responsibility to make sure you can comply with all government guidelines regarding entry requirements and vaccination status.
Dr. Amanda Bowen cannot be held responsible for any losses incurred.
Please see Terms & Conditions for full details. By booking with me you are agreeing to these T&C's.